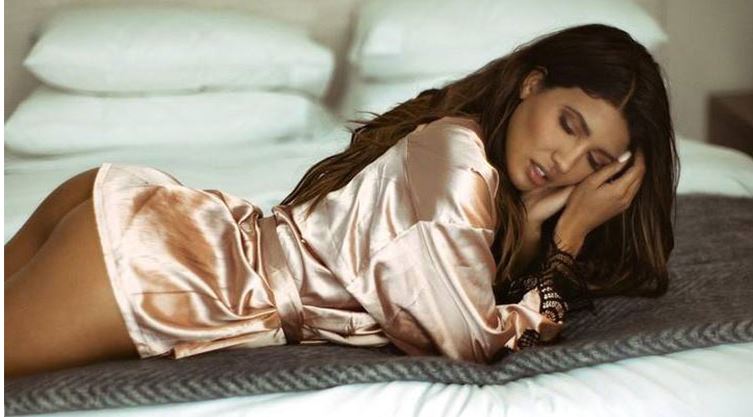 Satin nightwear is undeniably seductive and glamourous and wrapping up in a smooth satin dressing gown is a luxurious feeling all women deserve to experience. Slipping into your comfy robe after a long day at work is like giving yourself a big hug and choosing a sensual satin robe is really taking things to the next level when it comes to spoiling yourself. Whether you choose to stun at a girls night PJ party in your favourite pink satin robe or dress to impress for your lover in a sultry black satin robe over an erotic lingerie set, any nightwear collection should include at least one of these versatile beauties!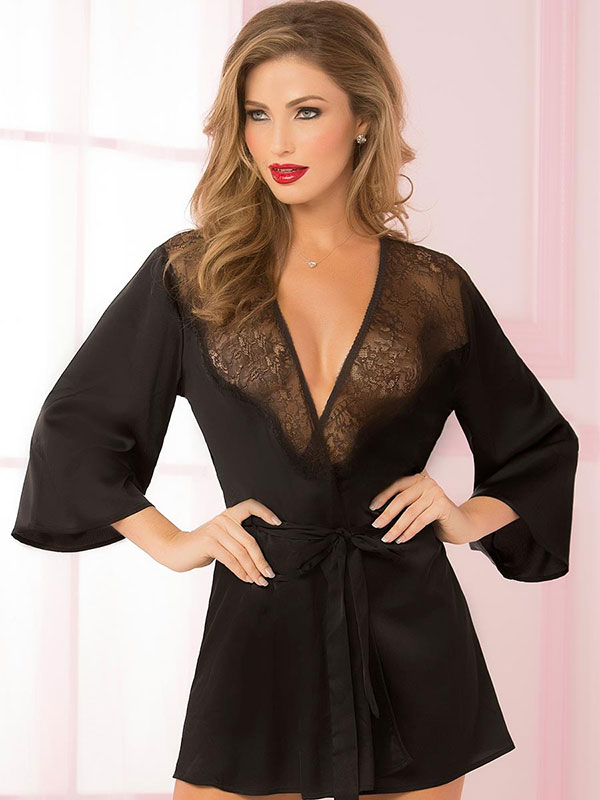 Sexy Satin Nightwear Robe £31.95
Satin robes are characteristically smooth and soft, with a beautiful drape that lends itself especially to caressing your curves in a sensual way.  A luxurious long satin robe looks impressively decadent and if you want to dress to impress in your boudoir, this is definitely the style to go for! Beautiful details like marabou feather trims, lace inserts, panels and trims plus different sleeve options including ¾ length and voluminous kimono style sleeves are utilised to make a wide variety of satin robes available for any taste and budget. Regardless of if you prefer a teasing short to mid-length robe or a sweeping floor-length dressing gown, you will have plenty of options to choose between.
Satin is a strong and durable weave that is now commonly made of long polyester fibres (sometimes called polysatin) and this is a more affordable option than silk satin, which is how satin was originally made and as the name implies, is satin spun with silk fibres. Keep in mind that satin can snag easily, so it might be wise to go easy on the jewellery to avoid the heartbreak of damage to your best robe!
The Top 5 Reasons We Love A Satin Robe
 A robe is a great gift idea as the sizing, combined with a simple waist tie closure, takes the guesswork out of buying other lingerie. Many styles also come with a matching thong or G-string so you are all set for an evening of erotic mischief.
A satin robe exudes luxury and glamour and this makes it a timeless addition to any nightwear collection. The classic cinched waist is universally flattering and suits all body shapes.
Satin robes are versatile and easy to style for different scenarios both in and out of the bedroom. Keep it simple with a lustrous satin robe worn over a pair of risqué knickers, or accessorise to your heart's content with sexy bra sets and stockings, feather boas, gloves, nipple pasties and whatever else tickles your fancy to turn up the heat!
A tantalising satin robe is a perfect precursor to a sexy striptease or as a naughty invite for your lover to disrobe you. It is the perfect way to rock a sexy bedroom look if you are shy and don't feel comfortable wearing anything too revealing.
You can't beat that smooth, soft and sensual feeling of sumptuous satin against your skin. An everyday luxury to make you feel extra special.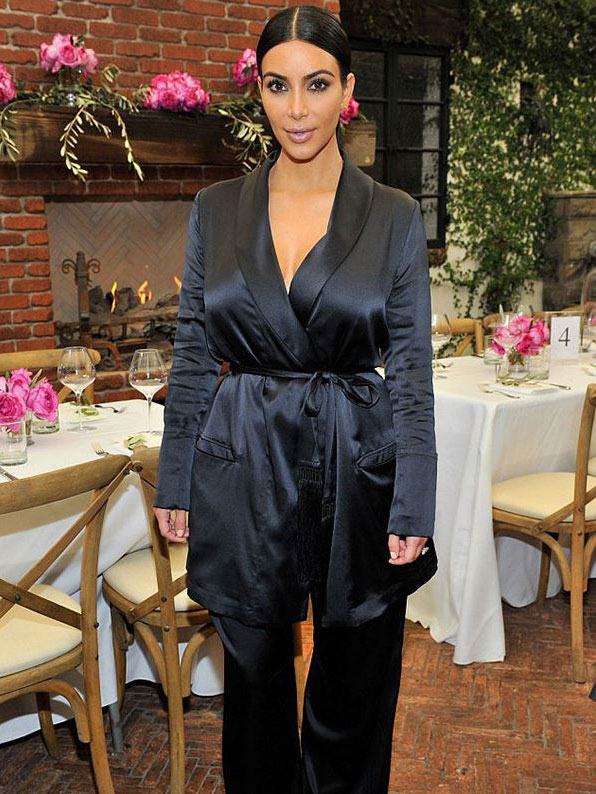 How To Choose The Right Robe For You
First of all, decide what you want your robe for. Do you want a versatile robe for daily wear around the house or are you looking for an opulent robe for luxury lounging with a glass of bubbly in hand? Maybe a sexy short robe to slip over a scandalous bra set or a bridal satin robe for the wedding night or honeymoon? Take a few moments to consider this and your search for a satin robe will be so much easier.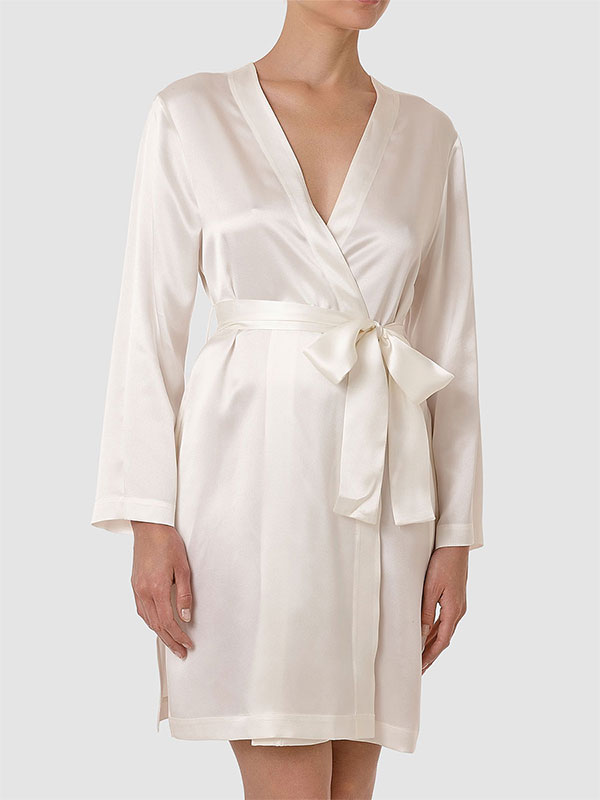 A robe for daily wear around the house needs to be practical, but it can still look great! Many robes have internal ties for an extra level of security in addition to the satin waist tie and this is a good choice for your more practical robe, to avoid any accidental opening! A wide-sleeved satin kimono robe looks amazing but you may find the characteristic sleeves a little impractical if you plan on doing some light chores when wearing your robe, so keep this in mind. (This is a great excuse for buying two robes by the way; one for practicality and one for pleasure!)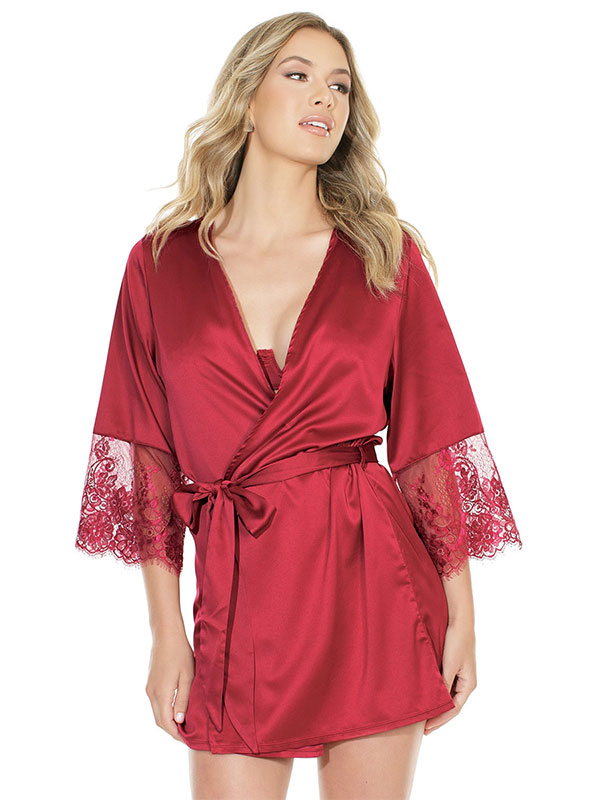 When it comes to wearing a sensual satin robe for the more erotic endeavours, what is practical does not matter so much, so go wild! A true boudoir robe can be such an empowering piece of nightwear and when you feel good, you look good. Personal style and preference is, as always, an important factor in choosing what you buy . You can choose an elaborate robe to make a bedtime statement or keep it simple and surprise your lover with what lies beneath.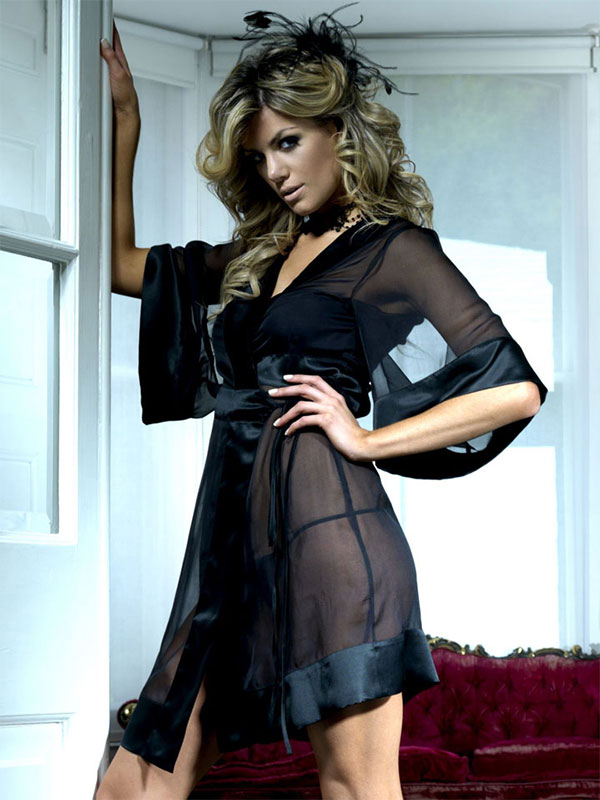 Lastly, if you don't opt for a full satin robe,  a great alternative is a sheer mesh or lace robe with subtle satin details, like the waist tie or satin-trimmed sleeves and hems. Showing teasing glimpses of skin never goes amiss in seductive moments and whether you are completely naked underneath or wear a cheeky thong or a lace bra set as part of an erotic ensemble, the anticipation will be electrifying!
Enjoying browsing our range of nightwear robes here, now that's a wrap!