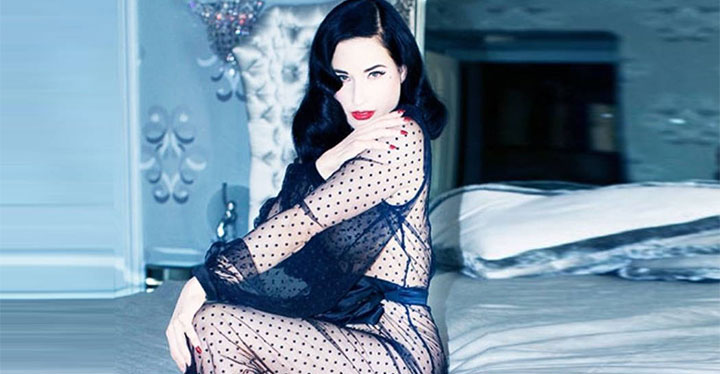 The term negligee is one you have probably heard before when you have been shopping for nightwear and lingerie, but do you know what it means? Like many words in fashion, negligee (and indeed 'lingerie') are French, the infamous language of love. It literally means "neglected", but this is one thing you definitely won't be when wearing a sexy negligee in front of your partner! Many people will associate the name first and foremost with a women's light dressing gown in a sheer fabric and a long, flowy style, but other terms for negligee could also be camisole, nightdress, peignoir and robe, to name but a few. As such, negligee nightwear can be used to describe many different looks and styles and it is a word that is open for interpretation, all depending on how much of a lingerie purist you are. In this blog post, we will stick to the definition of a negligee as sensual nightwear made for showing off your fabulous self in the comfort of your own your boudoir.
Negligees were fashionable in the 1920s when it was popular to have a different robe for every occasion, they were often elaborate designs worn for showing off in company, although not in a sensual way as you would today. Often worn by movie stars on and off the film set, a negligee from this era would typically be a pale coloured silk statement piece showcasing elaborate details such as ruffles, lace, ostrich feathers and ribbon flowers in an extravagant, yet elegant way. It was not until after the Second World War ended in 1945 that the negligee became a lustful lingerie garment with more erotic connotations,  thanks to glamorous Hollywood starlets like Rita Hayworth, pictured above, and Ava Gardner inspiring women everywhere with their looks and attitude. Discover a detailed explanation about the negligee meaning here and read on below for a little look into the magnificent world of this seductive and versatile nightwear staple.
Which negligee should you choose?
Sheer Sexy Long Negligee £46.95
A silk negligee really is the best and most luxurious sleepwear and is a true treat for yourself or your lucky lover! You should consider silk sleepwear as an investment piece to last but should you want the look of silk but without the price tag, a satin negligee is a good substitute. Keep it simple and sophisticated in an all silk chemise with feminine spaghetti straps and a classic cut or choose a slip teaming silk and delicate lace for seduction supreme. Wearing silk closest to your skin is an unbeatable feeling of pure comfort and luxury and our beautiful silk nightwear ranges from slinky slips and sensual chemises to extravagant silk robes and dreamy babydolls.
Naughty negligee sets are the perfect remedy to change up a sleepy bedtime routine! Slip into a teasing sheer set or a racy chemise with a matching thong for your partner and see how long before it ends up on the bedroom floor … See through babydolls in their sexy short length are a great choice to conceal a little and show off a lot and we warn you, this is not the option to go for if you want to ensure you get your beauty sleep! Some of our risqué robes come as a set with a matching G-string, and your partner will have a tantalising treat to look forward to after you have told them you will slip into something more comfortable.
Sexy Black Lace Long Robe £36.95
Georgette Long Lace Nightgown £39.95
Wrap up sexy in a long negligee and indulge in luxury lounging with a glass of bubbly in hand, before taking things to the next level with erotic midnight mystique. Choose a teasing lace robe worn with your best lingerie set and killer heels for a racy boudoir session or opt for a more romantic, yet equally sexy, flowing chiffon negligee to spellbind your lover and see the naughty consequences of a negligee for yourself. A long robe or nightdress is a nightwear classic that exudes glamour and sophistication, alongside effortlessly making you look and feel, feminine and fabulous.
We imagine every lingerie addict has something black in their collection and with good reason! Black not only flatters your figure, but it is a timeless classic that will never go out of fashion, making it a safe choice for many of us. That does not mean that black lingerie has to be boring, as you will see for yourself by adding a sexy black negligee to your naughty nightwear arsenal. Sheer black nightwear is the ultimate choice to tempt and tease so investing in a few risqué negligees will have you all set for every erotic encounter…Enjoy!
All that's left now is for you to choose which naughty negligee is for you and whisper teasingly in your partner's ear 'it's bedtime'!