A naughty lingerie set leaving little to the imagination is a sure-fire way of inciting passion and pleasure between the sheets and a tantalizing quarter cup bra is the ultimate bra to tease and please, seductively showing off your breasts to full erotic effect. If you have never tried a delightfully daring cupless bra style, we urge you to read on to be inspired to go uncovered and dare to bare.
What is an open cup or quarter cup bra?
As the name suggests, a quarter cup bra provides less fabric and coverage than both a full and a half cup, resulting in a risqué bra exposing your nipples and leaving most of the breast uncovered, hence the name open cup bra also being used.  Depending on your breast size, shape and natural perkiness, that quarter of fabric in the cup will still provide a little lift to your breasts especially if there is an underwire and higher side panels, this is why you may also have heard the design referred to as a shelf bra. It is up to you if you want to leave your nipples exposed or cover them with a set of teasing pasties or tassels for a seductive showgirl look. Most of the quarter bras we stock are underwired, but open cup bras are also found in non-wired, padded and soft cup varieties. Smaller bust sizes will be fine without an underwire and may even gain the look of a fuller bust in the shelf bra style as the breasts are lifted and pushed together. D cup sizes and above should look for an open cup bra with support such as underwires with side boning, wider straps and back band.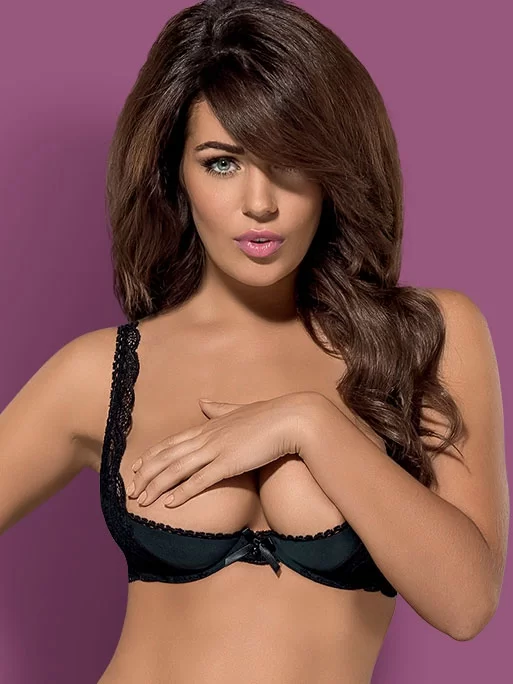 MIAMOR CUPLESS BRA £16.95
Terms such as open cup balconette, naked bra and shelf bra are regularly used to describe the same style which is somewhat confusing but what they all have in common is the feature of minimal coverage for the maximum erotic impact. A half-cup is the same as a demi-cup bra, the word "demi" being French for half and the candid cupless bra is the skimpiest of the open cup bras and sometimes called a frame or harness bra, as it is missing the cup completely. Don't get too hung up on the terms used to describe your bra, as many of them can be used interchangeably, and let's be honest; your partner will not care whether you wear a sexy cupless bra, open or quarter cup bra, as long as they can see your amazing assets on display!
SHELF BRA £33.95
The benefits of wearing a shelf bra
You might have guessed already, but the number one reason for wearing a quarter cup bra, or indeed any type of cupless bra, is that it is seriously sexy! Open cup bras are definitely worn for their aesthetically pleasing rather than practical reasons and you will both look and feel amazing in this daring piece of lingerie
WHITE OPEN CUP BRA £21.95
The ever tantalising mix of revealing and concealing at the same time is a dream come true for your lover and another bonus of the open cup bra is that it can be left on all the way through from fierce foreplay to the explosive finale. For some, this will add even more erotic exhilaration and sexual enjoyment. Team a sultry open cup bra with a pair of crotchless knickers and you are all set for a naughty night in, using sexy lingerie to frame your best assets in the most seductive way! Open bras are a titillating trend here to stay and with a wide variety of styles, cuts and colours to choose from, there really is a sexy quarter cup bra for everyone!
LA PETIT SECRET CUPLESS BRA £21.95
How to style a cupless bra
While some women would feel confident and comfortable wearing a quarter cup bra under a top outside the bedroom adopting the rather risque trend for making the nipples appear more prominent under clothing, for most of us this is off-limits. A sultry open cup bra really lends itself to showing off in your boudoir and there are many erotic styling options, all depending on which sexy scenario you have in mind:
-Team with naughty knickers, a waist enhancing underbust corset and nipple pasties or tassels for a burlesque-inspired look. Add accessories such as gloves, feather ticklers and blindfolds for a tantalising striptease or sensory awakening.
-A matching set comprising of an open cup bra and a strappy thong or crotchless knickers makes a very sexy surprise for your lover to discover and enjoy.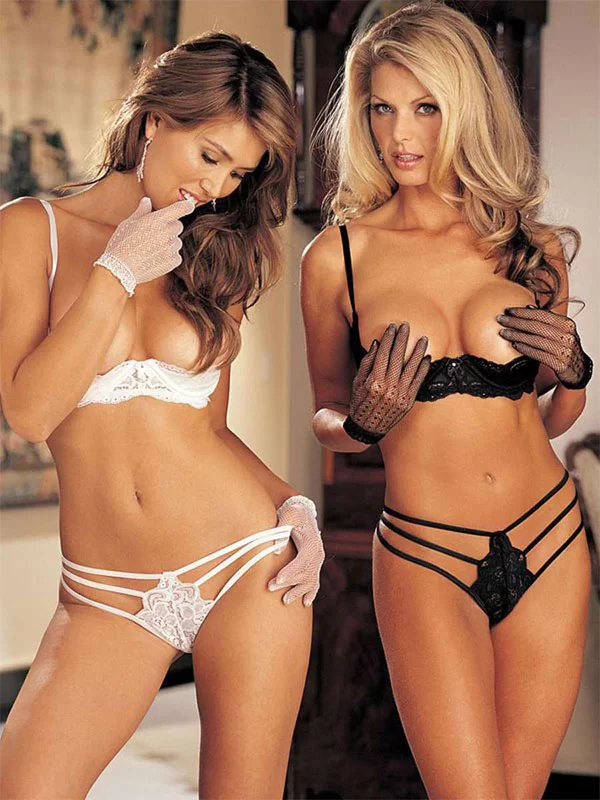 LACE SHELF BRA £32.95
IGNITE BRA SET £23.95
– If you are on the shy side and want to protect your modesty then wrap up in a sexy sheer robe showing glimpses of your breasts looking their best in a quarter cup bra. or have fun accessorising with different nipple pasties and tassels if you prefer to keep your nipples covered.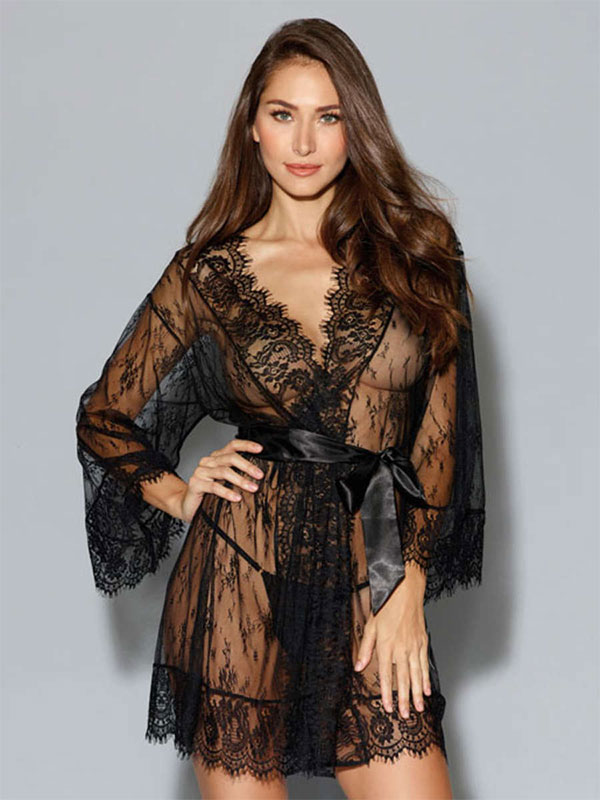 LACE KIMONO ROBE £46.95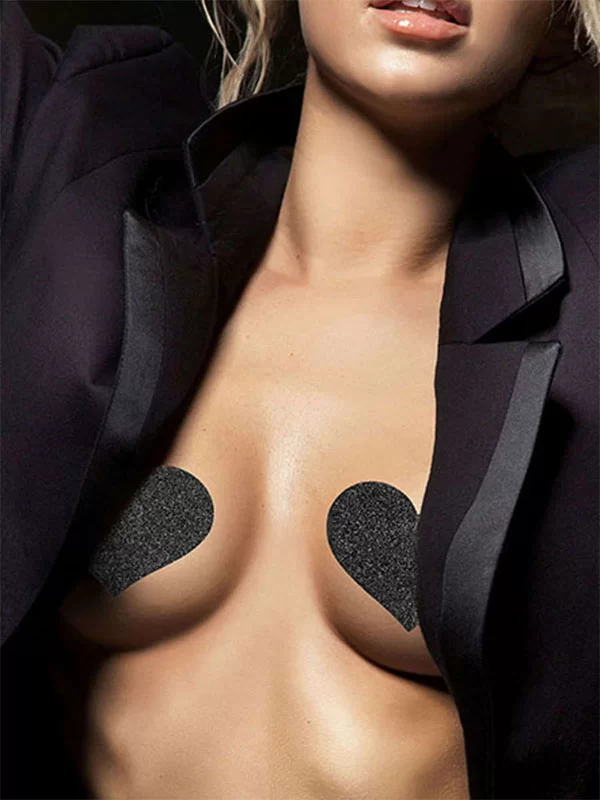 HEART NIPPLE PASTIES £9.95
A three-piece set with a bra, suspender belt and knickers teamed with sexy stockings and heels is a classic lingerie look. Next time, try a sultry open cup matching set and you will have a new sexy lingerie look to wow your partner.
LACE CUPLESS LINGERIE SET £28.95
Whether you see your cup as half full or half empty, we urge you to try out a playful, provocative and passion evoking open cup quarter bra the next time you look for some new lustful lingerie. Set the bar high in a racy shelf bra and you will never look back!