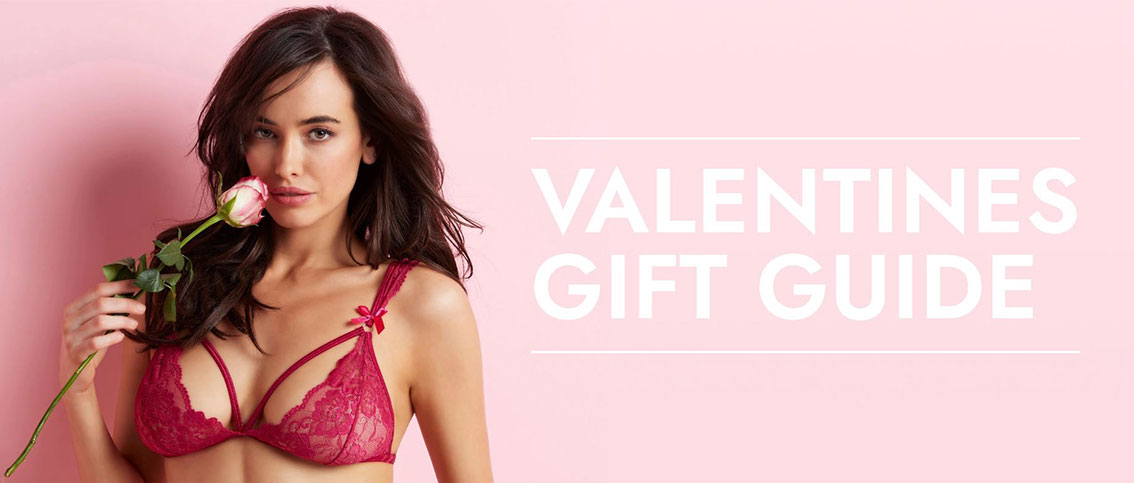 Haven't you heard? Love and passion is lingering in the air and Cupid is steadily seeking out his next romantic target… Oh yes, ladies and gentlemen, Valentine's Day is once again fast-approaching. But not to worry, Bedtime Flirt have been working meticulously to prepare an array of sexy outfits and gorgeous gifts to make this year your most memorable to date…
Feeling low or uninspired? Had to cancel your plans, or unsure on how to make this year special? Well, don't stress and leave it to us! Bedtime Flirt have considered every fine detail necessary to ensure you a luxurious lockdown of love. Although date nights out are on hold, why not take this opportunity to try something new and transform your home into a sanctuary of romance and relaxation… Light a candle, sprinkle some rose petals, dress up in one of our decadent designs and prepare for a pleasurable night in.
The theme is love! So, whether you're celebrating it this year with a partner, friends or simply your deserving self, why not indulge in some stunning Bedtime Flirt lingerie and celebrate in style. Whether you or your partner sways towards a sophisticated silk or satin style, luxurious lace, elegant embellishments, or some provocative PVC, our Valentines lingerie collections offer everything you need to inspire a night of desire…
Read on for all the inspiration you need for the big day…..
ROMANTIC REDS
Reveal yourself in red for a timeless and classic Valentine's Day look. At Bedtime Flirt, we offer a spectrum of ravishing and raunchy red lingerie to arouse an air of romance. Why not choose a sexy satin red basque to turn up the bedroom heat? Pair this statement style with some red suspenders for a faultless finish, and prepare to get pulses racing. Our sensational red lingerie sets are also a favourite this season. Ranging from stunning silk, satin and lavish lace, our range of bra and knicker sets are guaranteed to keep all eyes on you. However, if you prefer a little more coverage then our tantalising teddies, raunchy rompers and beautiful babydolls are a must. Also, you could opt-in for a red stylish chemise or a breath-taking bodysuit – both of which make an effortlessly sophisticated and sexy statement!
LOVERS GIFTS
Prioritise provocation and playfulness this year by stealing a seductive Bedtime Flirt style! Ladies, if you're looking to ramp up your sex appeal then our sultry styles are the go-to choice. Our heart embellished lingerie is fun and flirty. Trimmed or stitched to highlight Valentines heart, these garments are the perfect items to ensure excitement.
 If you're looking to raise the temperature or embark on an erotic endeavour, then why not choose something suggestive such as an open cup bra or peephole design. Valentine's gift for two? Our sexy and suggestive bow teddies are perfect. They vow to wow, revealing little yet suggesting so much, and can be unwrapped to reveal the ultimate Valentine's Day gift…..you!  If you'd rather wear even less to impress, seductively frame your curves by choosing our bold bow harness and thong set – easy on the eyes and a faultless surprise!
Unwrap Me Satin Bow Teddy £26.95
COUPLES GIFTS
If you are looking for a gift to share or even if you want to add a little something extra into the mix, we have some ideal couples' gifts that are designed to make an unforgettable night. As it's Valentines Day, you mustn't forget those roses! However, this year transform that gift from something sweet to something sexy by purchasing our rose petals, designed for you to scatter onto your bed to set the scene for seduction. To put your partner in the mood or simply relax them after this incredibly tough year, then why not choose one of our massage candles. Light the wick and pour the skin-safe wax, containing nourishing jojoba oil, aloe vera and shea butter, indulge them in a sensuous massage to melt away any stresses.
Dim the lights and prepare for more! At Bedtime Flirt, our Valentine's gifts are designed to up the bedtime ante. Why not purchase one of our sensual sex toys, playful Kama Sutra cards or orgasm enhancers to optimise pleasure and performance. Add a pair of handcuffs and a blindfold, and prepare to explore your erotic adventures together.
GALENTINES GIFTS
Galentines! The perfect day to celebrate the love between yourself and your friends. If you're looking to just give back to those dearest to you this year, then we have the perfect Galentine's gifts for all!
Looking to lounge and laugh with your besties (all be it by Zoom this year!)? Then why not opt for our luxury nightwear and create the cosiest celebratory night! Your best friends have seen you through it all so why not celebrate them and send them a little treat to make them smile.
GIFT YOUR SEXY SELF
Valentines day is all about love and that includes loving yourself! So, if you're looking to indulge and treat yourself this year, then why not search through our stylish selection of lingerie or sensational sex toys. Empower yourself by feeling confident and effortlessly sexy this Valentine's. Prioritise pleasure on these long lockdown nights with an erotic toy or spoil yourself with beautiful nightwear such a silk chemise or luxury pyjamas. This night is all about you –  so focus on setting some time aside for your sexy self.
Floral Vibrator Gift £31.95
For more ideas visit our Valentines gift collection of lingerie to fall in love with.