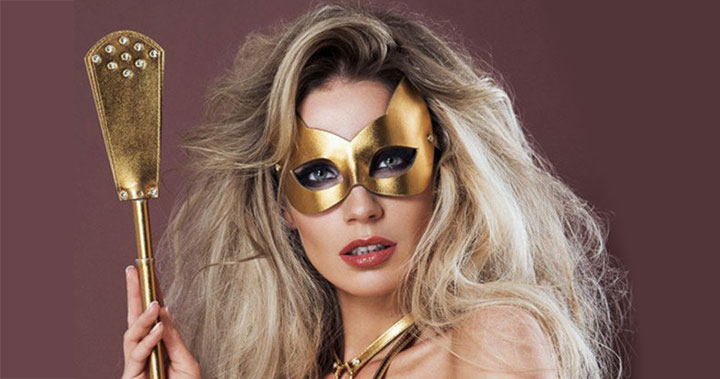 Sexy accessories are a great way of spicing up your sex life and surprising your lover, and our daring and diverse collection of arousing accessories has whatever you need for a wickedly wonderful weekend away, a special occasion or as an erotic accessory to liven up an otherwise uneventful evening in. A sexy massage with a happy ending is a longstanding favourite that never disappoints, but there are so many other sensual ways of breaking the routine and introducing new and exciting accessories to tease and please between the sheets!
Whether you feel a little stuck in a rut and want some simple, yet effective accessories or if you are curious about introducing some erotic exploration and adventure into your boudoir, these 3 tantalising treats should give you plenty of sexy inspiration to experiment and enjoy together;
1. Naughty Nipple Pasties
Hollywood Underbust Corset & Pasties£69.95
Mesmerise your lover and set a sexy mood with a pair of nipple pasties to tempt and tease. Titillating nipples tassels or pasties look amazing teamed with a risqué open cup bra or an edgy body harness and if you feel brave and want to show off outside the bedroom, wear your pasties proudly under a sheer blouse or top for an intriguing and irresistible look. A fishnet top over a pair of cheeky pasties makes for a club-wear look guaranteed to turn heads and kick-start hearts on a night out and with so many sexy nipple covers to choose from, you might as well get yourself a little selection of these budget-friendly beauties.
Flirty hearts, sexy sparkling stars in silver or gold and glitter cross shapes for an x-rated evening will have you just about covered and your lover will be driven wild with desire, whichever erotic ensemble you choose to complement your nipple pasties. Present your lucky lover with an all glammed up version of you in your best pasties or tassels teamed with a sultry underbust corset, gloves, frilly knickers, stockings and heels for a breath-taking burlesque show or keep it simple, yet sexy with pasties and a naughty thong or crotchless knickers worn under a robe for a very sexy unwrapping session…
2. Erotically Enchanting Eye Masks
Secred Sexy Fantasy Outfit £16.95
Lace Teddy & Mask £32.95
Exquisite eyemasks are not just for ensuring you get your beauty sleep or a quick power nap on a flight. Made with naughty intentions in mind, our erotic eyemasks and bondage-inspired blindfolds are a great introduction into the fantastic world of role play and seductive sensory awakenings. Don a beautiful eye mask as part of an elaborate dress-up game or to complete an erotic ensemble and revel in the sexy confidence it brings you!
A blindfold is the perfect boudoir accessory to keep your lover guessing, or have your partner blindfold you and take passion to the next level. Use a blindfold for fierce foreplay leaving you wanting more or blindfold your partner and don't say a word for an edgy sexual tension leaving you in charge. If you feel slightly apprehensive or nervous about letting your lover blindfold you, choose a sensual lace blindfold that will cover your eyes but still allow for a little sneak peek of what's going on and enjoy the sexy anticipation and tease of what's to come.
3. Tie Up & Tease With Restraints
Lace Suspender Belt & Cuffs £39.95
Using restraints like handcuffs, bondage tape and ropes in the bedroom and beyond is not just for BDSM enthusiasts or the seriously kinky,  and many couples start out their play with restraints through a pair of novelty handcuffs bought on a whim, just for a giggle. The erotic impact of a pair of cuffs or the tantalising feeling of tying up your partner and either taking control or surrendering is one that brings new energy into any sex life and it does truly open up a whole new world of sexperimentation. If tying up your partner or being tied up yourself appeals to you, a venture into Shibari (Japanese rope bondage) may tempt you.
As with any sultry accessories, you can be as edgy or as gentle as you want, just make sure you have discussed it with your partner before you start and keep it sensible, safe and consensual, and make sure you establish a safe word if you think you may need one. Whether you want feminine handcuffs with pearls or feathers or if you are looking for silky pleasure ties or a sinful bondage rope for your erotic escapades, our fierce collection of sexy handcuffs and raunchy restraints has something for every taste and budget. Sensual and versatile satin handcuffs and soft, furry handcuffs are perfect for beginners wanting soft bondage games, and for something more adventurous we recommend the bed bondage restraint kit to unleash your desires and indulge in your fantasies. This edgy and erotic one-piece restraint kit secures both wrists and ankles and you can easily turn any bed, chair or sofa into a piece of sex furniture!
Adding sexy accessories into your love life is a fantastic way to enhance communication, connection and curiosity in the bedroom and all that is left now is for you and your lover to pick your favourites and explore together!