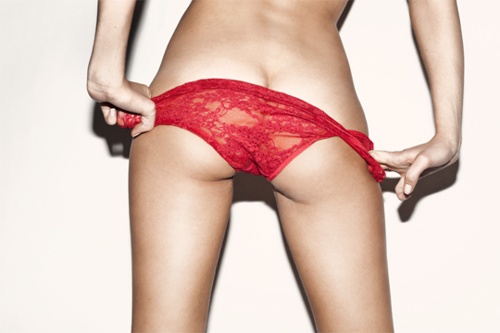 Mastering the art of a sexy striptease is a powerful weapon of seduction.  We are not suggesting you put on a burlesque performance every night when you get undressed for bed but if you are in a long term relationship that has become too routine or are just looking to seduce a new lover a scintillating strip show will add a little something extra to your love life. Surprisingly however, despite its high demand few women actually perform for their partner, often daunted by the concept of being completely on show and focusing on potential humiliation.
Stripping can be liberating and empowering and your partner will undoubtedly be wowed to watch a new confident you take control in the bedroom. So if you feel like trying something different, surprising your significant other or just flaunting your figure, why not give it a go. Here are our top 5 tips for performing the perfect striptease like a pro…
1. Practice Makes Perfect
Confidence is key to pulling off a seductive striptease so if you are feeling nervous then spend time practising in front of the mirror. Work out what feels comfortable for you, have fun trying out different moves, outfits and music. Don't worry if you don't look like a supermodel, learn to love your body, focus on your best features, feel and believe you are sexy and it will show.
2. Set The Scene
Think about where you are going to perform, perhaps with your partner on a chair in the lounge or lying on the bed, give yourself enough space and in the unlikely event that you have a pole at home, doorways or walls can be good props.  Dim the lights to set the mood, use candles and table lamps to create a flattering light and sexy ambience. If you are feeling uncomfortable or shy then there is nothing wrong in a little liquid courage, a glass of wine may steady your nerves but go easy as a drunken stagger may not be the sexiest move to impress.
3. Prep Your Playlist
Pick music that you love and that is going to enhance your mood, the magic of the right music is a key ingredient to a successful striptease. Practise with different songs to find your natural rhythm, avoid anything too fast or too cheesy you want slow, you want sensual, old school R & B is always a winner. Usually it's a good idea to go for songs with a slow build that are going to make you feel sexy, watching music videos is also a great way to pick up some moves. We have created this playlist to inspire your inner showgirl:
4. Showstopping Style
What to wear? Before you start undressing you need to find the perfect sexy outfit to captivate your audience. Do you want to adopt a persona for the evening or you may have a fantasy roleplay in mind. Whatever you choose, think about layers, what would be easy to take off and that you could use for a tantalising reveal. Trousers are a no no as is anything with difficult fastenings, your best option is to have a trial run in front of the mirror and find what best works for you. A skirt or slip dress that you can let fall to the floor are a good option, a buttoned shirt that you can slowly undo or straps on a dress that you can play with can work well to add an element of tease. High heels are a must, they will elongate your legs and provide instant sex appeal, keep them on whilst everything else comes off,  just make sure you can dance in them and that you are not going to end up next to your clothes on the floor! Prep your sex kitten style with make up and hair to match and a little fake tan can work wonders for hiding imperfections. Wear a sensual perfume as you dance close to your partner the lingering smell will heighten their arousal.
For the ultimate showpiece lets talk sexy lingerie, this is what will send your partner wild with anticipation. When you strip down to a seriously seductive lingerie ensemble it will take your erotic show to the next level. Focus on underwear that will emphasise what you love about your body, whether it's your cleavage, your legs or even your back, explore, have fun and find what is perfect for you. You could opt for fabrics that will make you feel sensual and you will want to touch like satin or silk or go for flirty lace or sheer mesh to tempt your partner with what lies beneath. Stockings and hold ups are always alluring and if the mood takes you then you could incorporate props such as a feather fan in to your striptease. Learn to love yourself in lingerie and your new-found confidence will shine.
5. Undress To Impress
Remember a striptease is all about the tease so don't rush, take it slow and peel off each layer. You can play with your clothing before removing, sliding your straps over your shoulders, pulling up your skirt or exposing and concealing parts of your body before revealing all. Get close to your partner, you can give them a lapdance or lean into their body and even plant a small kiss but don't let them touch you, if they try to make a move push them lightly back and create a bit of space. This will heighten the anticipation and you will love how in control you feel. Eye contact is key, use those come to bed eyes and be the ultimate bedtime flirt! Highlight your curves by tracing your hands over your body drawing attention to your best assets and don't forget the strip is all in the hip just keep them moving there is no need for fancy dance moves. When you are down to your lingerie turn your back on your partner and peel off the final layers, tease them with a back view looking over your shoulder until you're ready for the seriously sexy finale. We think you can take it from here!