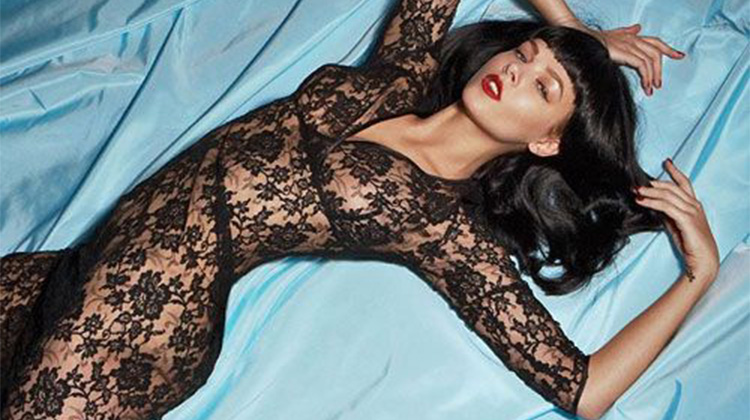 A sexy sheer bodystocking is a sultry statement to seductively wrap your body and the figure-hugging stretchy fabric is a sure winner in the bedroom! What we love about these scintillating all in ones, apart from the obvious erotic effects, is the versatility they give the wearer. You can style in a series of fashion-forward looks or simply wear them for bedtime fun. Usually made of stretch lace and mesh with different degrees of opacity and levels of coverage, there is a vast choice of bodystocking lingerie available so we are sure you will find something to suit. Read on for some ideas on how to make a bold statement in a bodystocking.
The Ultimate Erotic Outfit
Let's start with the most obvious reason why you would choose to wear a bodystocking; as a seductive piece for a naughty evening in. There is something truly irresistible about black lace or fishnet showing glimpses of skin and hugging your curves in all the right places and we dare you to find a partner that would disagree!
A risqué fishnet catsuit worn on its own is a very simple, yet effective erotic outfit and there are so many other ways to style it for a host of different seductive scenarios; A pair of killer heels and a robe will make your partner beg to disrobe you for a peek at what's underneath or wear a sultry suspender design under your date night dress or skirt and show off your sexy surprise later. Why not layer a sultry lace bodystocking with your everyday clothes and slowly undress for a tantalising and teasing striptease. Here are a few of our erotic favourites: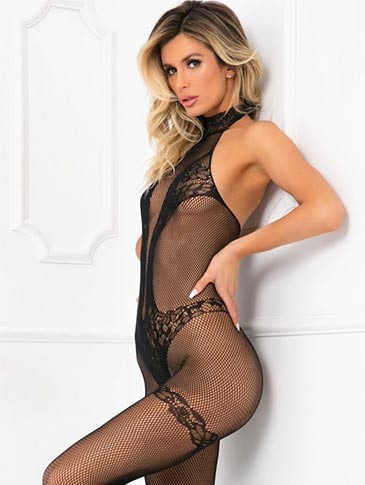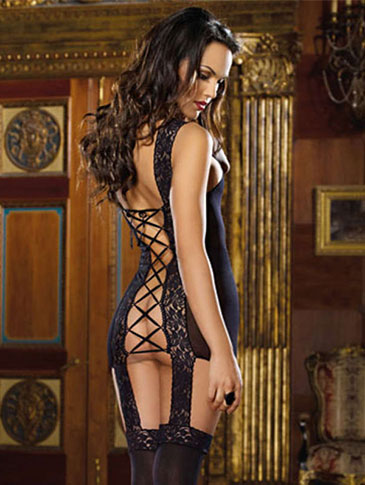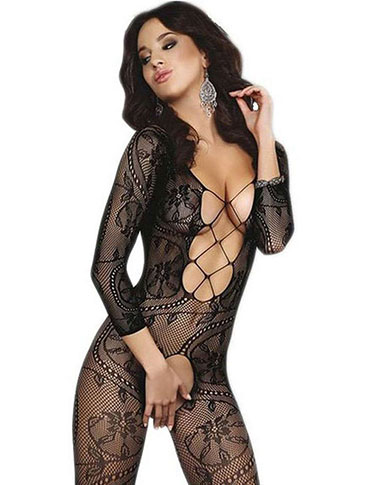 When it comes to choosing the right bodystocking lingerie for your erotic endeavours, you are spoilt for choice with our extensive collection but most importantly you should choose something you instantly like the look of and that you can imagine wearing. Some body stockings can be a little tricky getting into but the payoff is definitely worth it so don't let that put you off if you are tempted by a more intricate strappy style with cutouts or suspenders. We all know how to put on a pair of tights (roll up, step in) so just apply some patience and the same principle to getting into your bodystocking, ensuring it sits right. How you choose to remove it is completely up to you and your lover! Opting for a crotchless style means you can leave this on when things get hot as an added turn on.
Star Style
Celebrities love to take risks with their outfits to steal the spotlight. Your favourite sexy stars have been seen rocking body stockings as outerwear and have embraced this daring look. A host of gorgeous faces  – and bodies have donned a provocative one piece for full effect. From  Rhianna to Bella Hadid and never ones to shy away from flaunting their curves, the Kardashians just love bodystocking lingerie!
Beyond The Bedroom
Wearing a bodystocking outside the boudoir is a great way of fully utilising your lingerie and with some clever styling can take you all the way from work to an evening out and beyond. First things first, for practicality we would strongly recommend either an open crotch or a suspender style bodystocking for the simple reason that you will need to make those trips to the ladies easy when nature calls. If going commando for a full day is not for you, then slipping your knickers on over the bodystocking will keep you covered while also making a bathroom break possible without stripping off completely.
To keep it classy during the day, don't show off too much skin all at once and decide if you would like to show off your legs or your top half. Wearing a sexy bodystocking under your favourite dress or skirt for work won't look like you are wearing anything other than tights unless you want to show it off, and especially in winter, a long sleeved bodystocking will also add a little warmth as a very sexy baselayer!
Suspender bodystockings give the illusion of sexy stockings and both the classic sheer look and sensual lace top styles are available for adding either simplicity or a more eye-catching statement look. A black bodystocking is a safe choice that goes with everything, but adding a pop of colour like white or red can make a big difference to an outfit and create interesting contrasts.
To rock a bodystocking on your top half; Compliment your outfit showing hints of your bodystocking underneath a jacket for an understated elegant look or go for a slightly more daring sheer bodystocking with your bra showing through. Play around with layering and teaming contrasting fabrics, colours and textures for a look you feel confident and comfortable in and remember that even though a bodystocking is thought of more as erotic wear than day wear, wear it whichever way you please, whether that is in the boudoir or beyond! Here are a few options that are great for layering: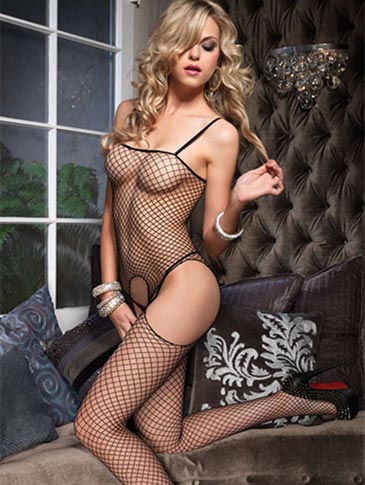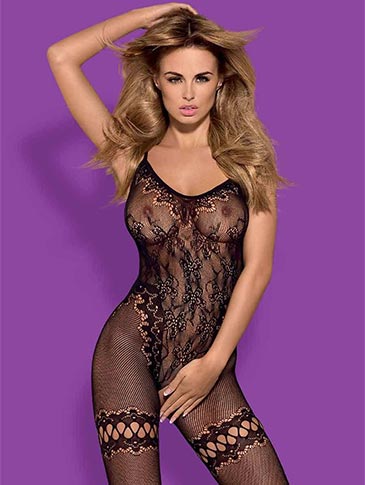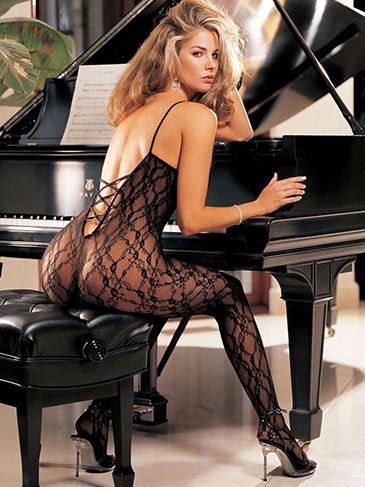 Elegant evening wear and trendy clubwear for a night out are usually less demure and a little more "show off" than your daily attire and sexy bodystocking lingerie works a treat to add an extra edge to your evening outfit. Fishnet is a clubwear classic and a style with erotic connotations and a sultry fishnet one piece looks fierce when teamed with shorts or a skirt and a top showing glimpses of fishnet or a strappy bra worn underneath.
Rock it up with chunky boots if you want to tone down the femininity and keep it casual or choose your best heels to add elegance and either highlight a sophisticated look or balance a casual ensemble towards a dressed up style. Accessorise with jewellery for your own unique twist, just remember to remove this carefully before taking off to avoid snagging.
A classy pencil skirt worn with a slightly unbuttoned blouse will look great over a singlet style, showcasing equal measures of elegance and effortless sex appeal and it will easily take you from nice to naughty as the evening progresses.
Whether you dress provocatively with an erotic encounter in mind or if you dress to impress for a different social occasion, expand your horizon and try bodystocking lingerie next time, you won't regret it!