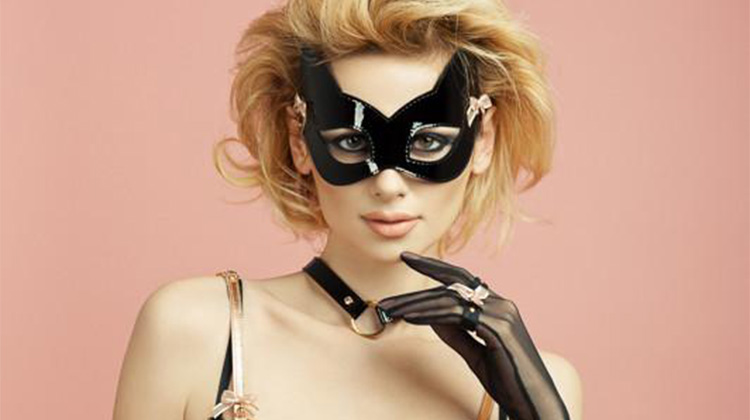 Have you ever felt the desire to act out a secret fantasy or try a new sexy scenario? By becoming a provocative alter ego you can lose your inhibitions and step out of your comfort zone. If you are in a long term relationship and want to end boredom in the bedroom or have been longing to fulfil a sexual fantasy then role play dress up is a great way to ignite a spark in your sex life. Being able to have fun with your partner and talk openly about your shared fantasies is one of the cornerstones of a good relationship and who doesn't love a little escapism. Discuss your roleplay ideas, then let your imaginations run wild.
Classic role playing games and fantasy costumes include the naughty nurse tending to a very needy patient or the hardworking French maid with a dirty mind and skimpy costume.  These sexy outfits are perfect if you are new to roleplay and feel slightly hesitant about anything too kinky,  we are pretty sure you will enjoy getting into character because this is basically the fun of adult dress up with added benefits!
Read on for our top 5 sexy bedroom costumes and erotic roleplay ideas:
1. The Naughty Nurse
A naughty nurse uniform is usually white, red and super sexy with a deep plunging neckline and a teasing short length offering glimpses of what your patient needs to feel better.  Costumes often include accessories such as a nurses hat, stockings and "red cross" bows but even without these little extras, you should be able to give your patient some much-needed relief. We all know orgasms are so beneficial to your health.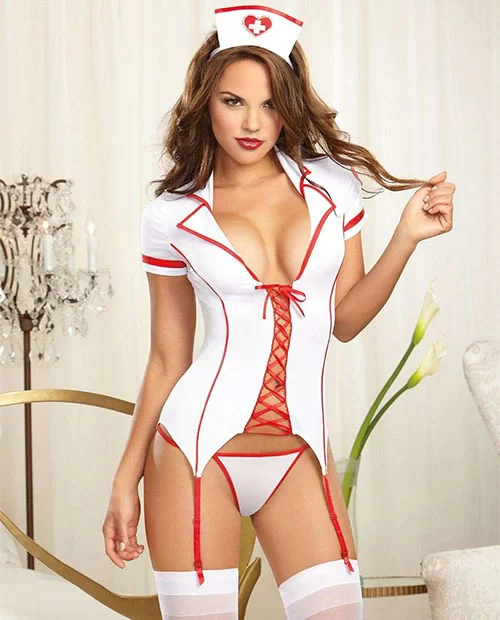 Sexy scenarios for medical role play could be:
A bedbound patient needing some tender loving care from the naughty night shift nurse.
An on-call nurse gets updates from the patient throughout the day and promises to make a special house call later that evening.
A thorough examination, tell your partner to undress then give them the best 'physical' of their life.
2. The French Maid
We all know this risqué fancy dress look; a skimpy black dress with frills and a dainty white apron, usually completed with a little headpiece and a fluffy duster/ feather tickler to get the job done.  Gloves and stockings will enhance a French maid outfit creating a tantalising tease and this roleplay classic is the ultimate sex fantasy for many, with good reason! The master and maid scenario is a great one to take out of the bedroom making it even hotter, so get creative and make use of the kitchen worktops or the dining table.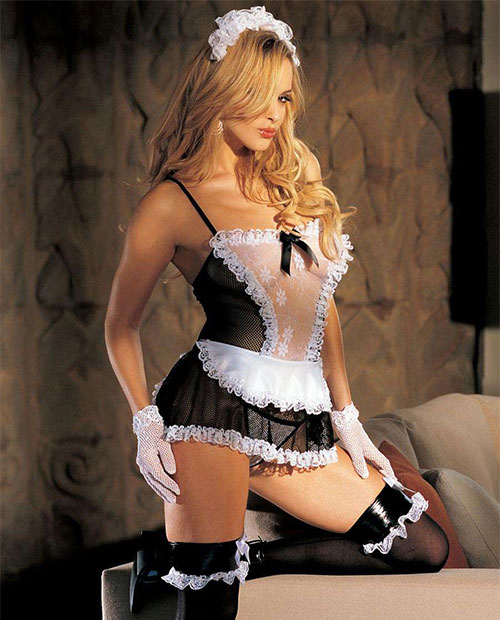 Try these role play ideas to make housework way more appealing:
Show your lover you are maid to tease by offering a very comprehensive 5-star room service, with all the added extras!
Take him to the brink of erotic anticipation by applying a "no touch" rule testing his ability to keep his hands off you, while you do your maid chores with plenty of suggestive bending over and teasing with your duster/tickler.
If you prefer the submissive role, let your lover closely scrutinise your cleaning and be prepared to make it up to him and get down on your knees if you have missed a spot!
3. The Sexy Secretary
Working overtime is a true thrill when the bedroom is your office and your lover is your boss! The sexy secretary look is sharp and sophisticated with strong seductive power, think a buttoned black or pinstripe top with stockings and glasses or a shirt that can be slowly unbuttoned. Let your lover wear a suit as a tie can also be a fun accessory. Whether you pretend to be a ditsy secretary having to stay late for your boss or if you are a headstrong secretary keeping your boss in check, this could be your ultimate dream job with plenty of perks!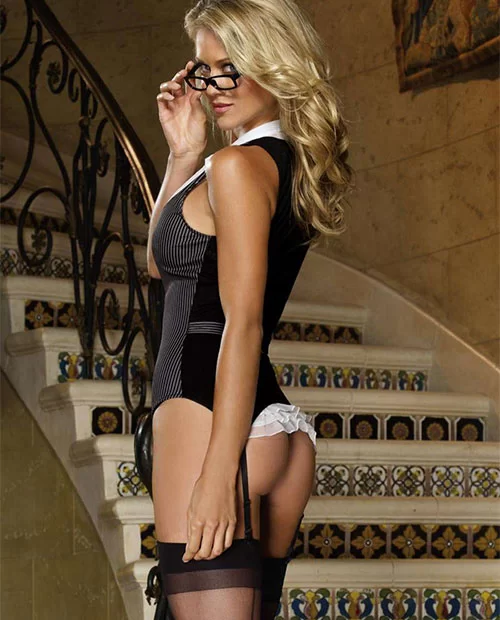 Let these sexy suggestions inspire you to put in some extra office hours:
Staying late in the office to beat a tight deadline when your boss comes to check on your progress. You are entirely at his mercy, defending your work the best you can…
Hide under the desk as the boss makes an important call, give them oral sex quietly and slowly whilst they need to remain composed. When the call ends you will definitely be getting a bonus.
The company is making cutbacks but your work skills are desperately sought after. Seduce the boss teasing them with glimpses of your lingerie this is also the perfect scenario to incorporate a sexy striptease ensuring you keep your job
4. The School Girl
The short skirt, white shirt and knee-high socks of a school girl's uniform are one of the more contentious fantasy costumes, but it is important to remember that a fantasy is just that.  If you have ever had a crush on a teacher or if you are shy and like being submissive the student and teacher role is perfect for a little power play. If you want to experiment adding props such as a spanking ruler this could take the scenario to the next level.
Trying these roleplay ideas are sure to teach you a sexy lesson:
What will happen to a rebellious student who has been a very naughty girl and is sent to the headmaster's office? Test your disciplinarian's limits and see if you can handle the sexy consequences.
Be the teacher's pet and show a willingness to get good grades and a gold star for your effort. The teacher may need to explain things really thoroughly, but we are sure you will get top marks.
Indulge in a very private biology lesson with your fellow pupil or get your teacher to give you extra tuition and a helping hand to a very willing student!
5. The Provocative Police Officer
If you like taking the lead or want to play at being dominant and have your lover under your complete control then this is the scenario for you. Also if you have been fantasising about trying a little bedroom bondage this is a fun way to introduce it into your relationship, just make sure your partner is on board first.  A sexy policewoman's costume usually comprises of a short black dress or teddy with a badge and hat, team with stockings and the must-have accessory handcuffs for an arresting look.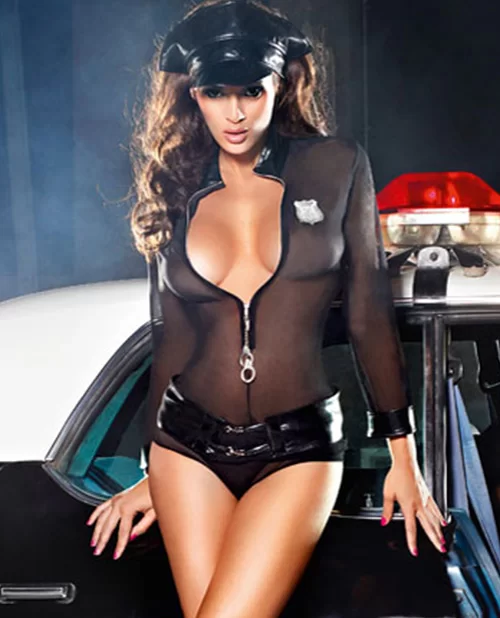 Here are a few roleplay ideas and remember you have the right to remain sexy:
Arrest the criminal and handcuff them to a chair or bed, show them who is in charge and don't let them go until they give in to your demands.
Perform a strip search then show your authority and command that the criminal do exactly as they are told.
Blindfold and tie the suspect to a chair whilst you perform a sexy interrogation, torture the suspect slowly touching and whispering what you are going to do to them whilst they remain helpless.
Why Sexy Roleplay?
An important aspect of roleplay is "fun", so don't take it too seriously. Sexy roleplay is fantasy and fun shared between you and your lover, so embrace the trust and limitless possibilities it brings. Laughing is a good way of diffusing a potentially embarrassing moment, both in and out of the bedroom, and should things not work out quite the way you had planned or envisaged it, you could always blame it on your alter ego and just get on with your naughty night in!
In the world of roleplay pretty much any lingerie costumes you can think of are available and the only limit is your imagination.  Making up role-playing scenarios, setting boundaries and acting together with your partner is not only refreshingly erotic and seriously hot but a bonding session unlike any other!
Now, which sexy persona will you be tonight?