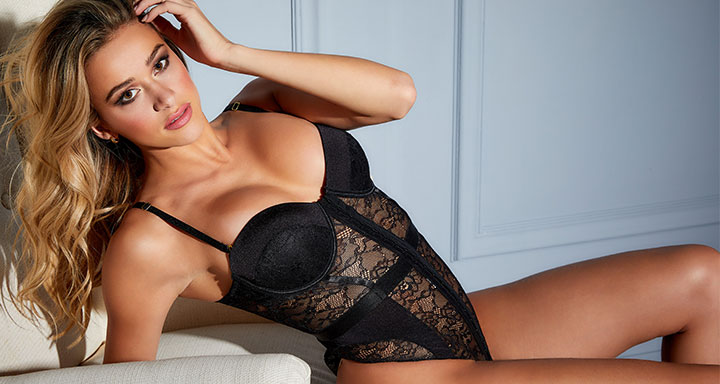 These one-piece wonders really are the most versatile, figure flattering, feminine pieces of lingerie you can add to your wardrobe. Our lace bodysuits come in a variety of styles and colours from long sleeves, plunging necklines to statement strapwork and provocative cutouts. Bodysuits offer a sleek silhouette when worn with trousers, skirts or shorts, they stay tucked in, highlighting your curves and giving you the perfect base layer for almost any outfit. Although similar to a leotard in design, most bodysuits have a snap crotch to make trips to the ladies that bit easier. There are so many options when it comes to styling a lace bodysuit, with clever layering this lingerie staple can take you from the office to a glam night out and of course back to the bedroom!
Whatever the occasion we have created a few different looks to show you how versatile a black lace bodysuit can be, we hope this inspires you to take the bodysuit out of the boudoir and rock this sexy lingerie trend.
1. Date Night
A bodysuit will effortlessly take you from your desk to a romantic date night. Just wear under a blouse for work, then lose the blouse and slip on a blazer for an evening look. Skirts or skinny trousers and heels teamed with a plunge neck body make for a super sexy outfit to wow your date with the added bonus that at the end of the evening you already have an outfit set for seduction.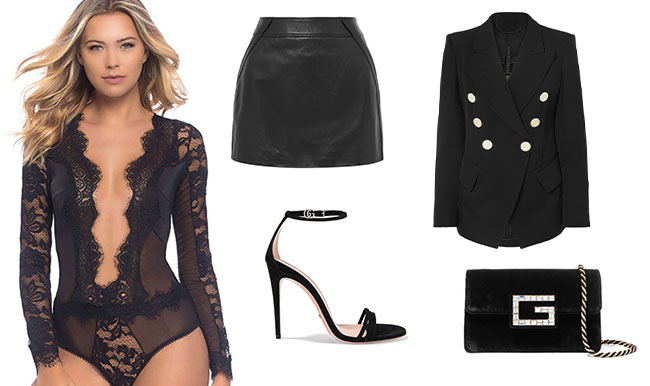 Renata Long Sleeved Lace Bodysuit £33.95
2. Festival Flirt
Take your outfit from the bedroom to Bestival. The bodysuit has become a popular festival fashion trend seen on celebrities such as Rhianna and Kendall Jenner. The perfect way to add a sexy spin whilst channelling your inner rock chick. Style it up with distressed denim shorts, a leather jacket or low cut tee and biker boots. Add statement shades and protect your modesty with some sequin nipple pasties. Work this look and that backstage pass is yours.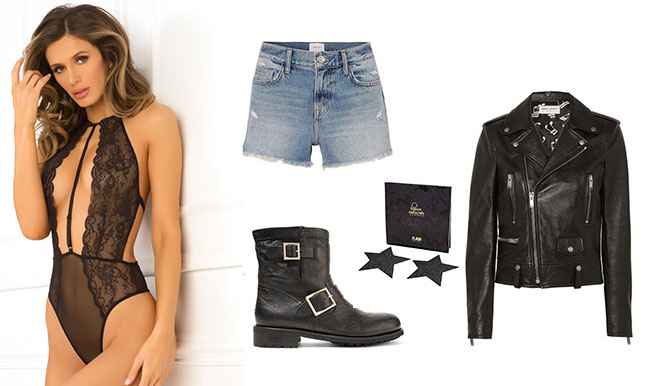 Lila Sexy Black Bodysuit £28.95
Star Pasties £7.95
3. Girls Night Glam
Make a bold statement in a lace bodysuit on a night out. Team with cigarette pants or skinny jeans and killer heels, add a little sparkle with your accessories and you are good to go. If you feel a little too exposed throw on a blazer or sheer top still offering a glimpse of lace, experiment with layering and find what works best for you. Prepare to hit the club and steal the spotlight.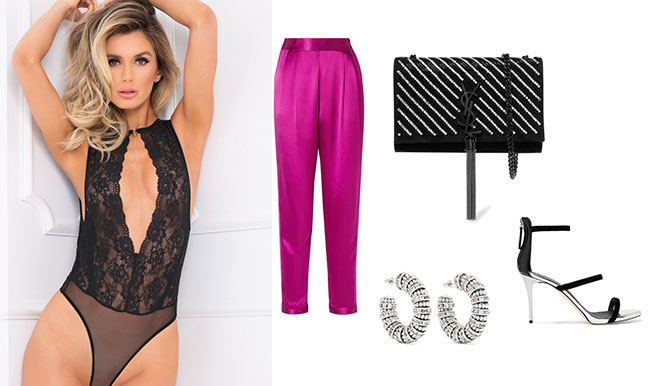 Lace Bodysuit With Chain £22.95
4. Weekend Wonder
Dress down your bodysuit with jeans and trainers to bring a touch of casual cuteness to your weekend style. Let the scalloped edge of the lace peek out from under a low cut tee, shirt or jumper instantly adding a sexy edge to your outfit. Also perfect for luxe lounging, a lace body paired with joggers for movie night and a snuggle on the sofa with your loved one is a winning combination, he will love that you look relaxed yet seriously hot and you may well find you both are early to bed!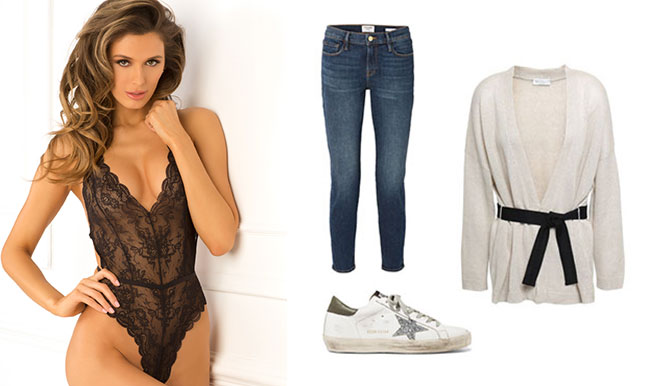 Saskia Lace Bodysuit £29.95
5. Sexy Seductress
We couldn't offer bodysuit styling tips without giving you a provocative boudoir look. Many of our bodies come with detachable garter straps so you can layer them with outerwear and then attach the suspenders and add your favourite stockings for bedtime glamour. Up the ante by accessorising your outfit with an eye mask, gloves, killer heels or a feather tickler and get set to turn the dial to seduction.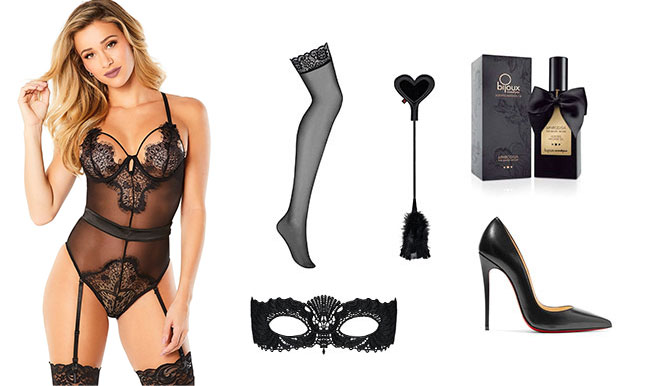 Sexy Lace Lingerie Teddy £29.95
Black Sheer Stockings £7.95
Aphrodisia Sexy Massage Oil £19.95
We hope to have inspired you not to limit your lingerie to the bedroom. With gorgeous details such as statement strapping, feminine eyelash lace and intricate embroidery our lace bodysuits are designed to be seen. So be bold in your fashion choices, follow in the footsteps of celebs like Bella and Khole and work this super sexy trend.
Shop our collection of lace bodysuits here