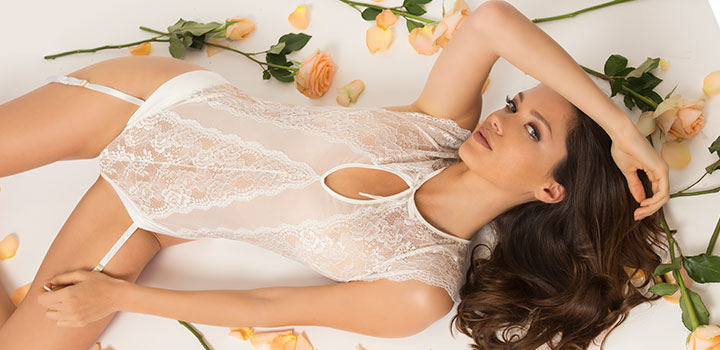 You have found your happy forever after, you have chosen the gorgeous dress you will wear on your big day and you are now super busy planning one of the most special days of your life. With so many things to juggle and meticulous planning to ensure every last detail of the big day runs smoothly, finding your perfect wedding lingerie may not be at the top of your list.
Choosing the right bridal lingerie need not be as difficult or time-consuming as you may imagine it to be. You will feel spectacular knowing you look as amazing underneath your wedding dress, whilst being the beautiful, blushing bride on the outside. Read on for our helpful 5 step guide of what to consider whilst on your mission to finding the best bridal underwear for you:
1. Dress Style
We would always advise choosing your wedding dress before you invest in your elegant wedding lingerie, so you can get lingerie to compliment the dress. The features and silhouette of your dress will guide you to the best lingerie solutions, and remember to take advantage of your dress fittings (bring your wedding lingerie, any accessories and shoes) to get precious advice and input from your seamstress about the best options.
Some wedding dresses have a fitted corset or built-in bra, usually making the need for a bra obsolete. If you need support under your dress, consider options such as a slimming corset, versatile basque or a beautiful bridal bodysuit.
Your neckline dictates your style of bra. In many cases, a good multi-way/convertible bra will do the job and for slightly trickier necklines like backless or deep plunging, there is a wide range of solutions available, including adhesive, backless bras, smooth nipple covers and clear bra straps. Make sure you get the correct size and that the bra, basque or bodysuit is comfortable to wear for a full day.
Think colour and fabric; White may easily show through a delicate, sheer dress, so opt for nude shades that match your skin-tone instead. Rather than textured lace, a slinky silk dress fabric teams best with seamless lingerie or choose shapewear for a streamlined silhouette. Heavy duchess satin and layers of tulle enable you to wear white, textured lace patterns and full matching lingerie sets with suspender belts and stockings.
2. Add Accessories
Wedding Hold Ups £11.95
Bridal Gloves £12.95
Wedding Garter £4.95
If your wedding dress style limits you in your choice of lingerie sets or has already got built-in corsetry then think about how you can incorporate accessories into your bridal look.
Some brides choose to wear extras including the traditional garter and legwear such as hold-ups, stockings and tights, but this is all up to your personal taste. If you do decide to wear stockings, we would recommend getting at least 2 pairs, so you have a back-up in case of laddering. If you make it through the wedding day with your hosiery intact, you have a bonus pair ready for wonderful wedding night adventures!
Consider lingerie accessories (strap solutions, padding, nipple covers etc) these might be required to make your bridal lingerie fit perfectly, especially if you plan on losing weight and need some final adjustments in time for the big day.
3. Comfort Is Key
Ivory Satin Bridal Corset £56.95
Bisou White Suspender Belt £27.95
Bridal Underwear Teddy £43.95
Every bride wants to look stunning on their big day, but you also want to be comfortable and not have to worry about ill-fitting lingerie with wires digging in or having to continually pull up your strapless dress.
If you are opting for a bodysuit under your wedding dress, look for one with either a hook and eye or poppa crotch and if you are wearing a suspender belt and stockings, put the knickers on last. It may not be the most stylish option, but no one will know and this will make the inevitable trips to the ladies so much easier.
Many brides cleverly opt for comfort and practicality when choosing lingerie to wear under the wedding dress and instead go all out when it comes to the sexy and spectacular wedding night lingerie. This is a great idea, and considering your wedding night is a passion fuelled private affair, we recommend getting some seriously sexy lingerie and bridal nightwear to start off your married life together!
4. Demure or Daring?
Bridal Nightwear Chemise £29.95
Bridal Knickers £27.95
Forever Yours White Basque £36.95
Sexy wedding lingerie will make you feel spectacular but stick within your comfort zone your wedding day is not the time to try out a new style you are unsure of or to wear something you are not comfortable in. Of course, you want to impress your groom but remember he is marrying you for you!
Know your lingerie personality and bring your bridal look into the bedroom on the wedding night. If you like to be bold in the boudoir opt for cut out and provocative strappy styles or keep it elegant and feminine with a silk slip or long gown.
Your bridal lingerie is the perfect opportunity to add your 'something blue' to the big day, many styles feature blue bows and trims or add a blue garter to compliment your underwear set.
5. Plan Ahead
Last, but not least, don't leave your lingerie as a last minute after-thought being ordered on impulse a few days before the big day! Getting stressed about your bridal lingerie is the last thing you need in preparation for your wedding.  Ensure you give yourself enough time for getting the correct size and that you are happy with how it looks and feels.
Factor in extra time for things like delivery times and possibly having to return, exchange or reorder items.
Whatever your style say I do to treating yourself to some beautiful wedding lingerie and start your happily ever after by making it a day and night you'll both never forget.