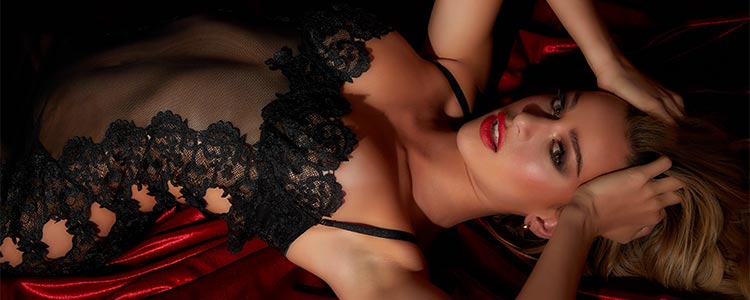 Here at Bedtime Flirt, we believe ladies sexy sleepwear is a failsafe way to spice up an evening in with your partner. Naughty consequences are sure to follow when your lover sees you adorned in your best or naughtiest nightwear. We understand the comfort factor of your well-worn sleepwear and there is absolutely nothing wrong with wearing your favourite pair of comfy PJs or that washed out, oversized T-shirt you have had for as long as you can remember, but getting dressed up in sexy nightwear or lustful lingerie every now and then is the perfect way to surprise your partner with an erotic treat and to set seductive sparks flying in the bedroom. We have selected our top 5 sexy sleepwear styles to inspire your desire, whether you are after a romantic long gown, an intimate piece of pure luxury or a sultry sheer number for the ultimate in come to bed allure:
1. The Look Of Love
Red Silk Chemise £85
Long Black Nightwear Gown £48.95
Sexy Red Lace Romper £36.95
Aside from red, the colour synonymous with love and passion, a romantic nightwear style brings to mind an elegant, long nightdress or a decadent negligee teamed with fluffy boudoir mules for evening glamour, lashings of beautiful lace showing teasing hints of skin and feminine details like satin bows, crystal charms and flirty frills. Sensual long gloves or a feather boa may add an extra erotic element to your look. Let your sleepwear transform you, if you are looking to rekindle the magic in your relationship or if you simply want to dress for desire, our racy, yet romantic nightwear offers options for every bedtime flirt. Slip into something spectacular and enhance your choice of sleepwear with romantic boudoir accessories such as delicately perfumed rose petals scattered on the bed. Set the mood with a sensual massage for tantalising foreplay or wear a silk eye-mask to heighten anticipation leading up to the ultimate erotic adventure.
2. The Teasing Touch Of Luxury
Etincelle Silk Nightwear Chemise £160
Ivory Silk Robe £140
Want to indulge in a little luxury in your nightwear collection? It is hard to match that amazing feeling of wearing a fabulous nightwear piece from your favourite designer or flaunting an opulent silk chemise or a satin pyjama set gifted as a precious token from your lover. Decadent sleepwear is made from sumptuous fabrics like pure silk, blissfully soft cashmere and lavish lace to skim your silhouette, treat yourself to the ultimate luxury investment piece, it is totally worth it.  If you care for your silk items the correct way (cool hand-wash), they will far outlive cheaper alternatives and you will have a beautiful nightwear piece to treasure for years to come. The soft feel of the almost weightless silk against your skin, the beautiful drape and flow and silk, being a natural fibre, is breathable and hypoallergenic too, making it a great choice for those with sensitive skin. A decadent silk slip exudes a sensual sophistication fit for any temptress, luxury loungewear or pure silk nightwear is the perfect treat for yourself or someone special, no matter the occasion. Browse our exclusive Bedtime Flirt luxurious lingerie sets and nightwear for truly unique designs and bask in the glory of love, lust and luxury
3. Add A Pop Of Colour
Sexy Sleepwear Chemise £29.95
Sexy Satin Chemise £45.95
Satin Sexy Pyjamas £54.95
Inject some colour to your lingerie collection with gorgeous babydolls in passionate pinks or beautiful blues, a sultry chemise in tantalising turquoise or wrap up in a sexy scarlet robe to get your lover's pulse racing. Wearing something colourful can help brighten your mood and boost your confidence and even though the timeless classic, black may be a safe option why not try something new. Refreshing your nightwear collection with a little addition of colour is more than likely to give your love life a boost as well, as we all know "variety is the spice of life". You could surprise your lover by wearing a sexy nightwear piece in their favourite colour, or ask what colour they would like to see you in and enjoy the anticipation building up to the big reveal. Knowing something sexy is about to happen really is a true aphrodisiac and a tantalising turn on! Play around with different colours and have fun styling your sexy sleepwear with stockings and heels or a seductive robe. If you are looking for a more subdued option, we also have a tempting array of lingerie and nightwear in black with hints of colour, like contrasting lace trims, bows or ribbons.
4. Blissful Bridal Sleepwear
Bridal Lace Nightwear Babydoll £55
Nicolette Long Bridal Nightgown £53.95
White Lace Short Robe £24.95
We all know the wedding dress is the most important item for your big day, but what about the attire for the wonderful wedding night and honeymoon? We believe the transition from your special day in public to your magical night in private really deserves some amazing bridal nightwear for you both to celebrate together!  Wrap up in a sexy white lace robe over an alluring bridal lingerie set or wear it alone and lounge in style, until your happy forever after discovers your naughty secret. Teasing chemises and delicate lace babydolls in the classic bridal colours ivory and white will take you from vow to wow effortlessly. For a versatile honeymoon look, a classic silk camisole is a sexy staple great for layering under outerwear, dreamy bridal nightwear is a seemingly small detail compared to your wedding itself, but the special feeling it brings should not be underestimated. The wedding night and honeymoon are a unique experience to be shared together and adding seductive bridal sleepwear or a sexy gift to the occasion help make it that little bit more special whilst creating incredible intimate moments you will cherish forever.
5. Dare To Bare In Sheer Sleepwear
Sexy Sheer Babydoll £25.95
Sheer Nightwear Chemise £28.95
Lace Kimono Nightwear Robe £46.95
A risqué sheer babydoll sensually skimming your thighs and showing off your curves to the full effect is a sexy statement look no partner can resist and sultry sheer nightwear really is the choice if you don't mind losing out on your beauty sleep! Our sexy babydoll sleepwear and daring chemises in sheer lace and see-through fabrics, featuring a jaw-dropping array of colours and cuts are the ultimate in erotic allure. The powerful combination of revealing and concealing at the same time is sure to tempt and tease your lover. Opt for sheer mesh teamed with lace or contrast panels for coverage if you want to leave a little to the imagination, or layer a risqué lace robe over your nightwear for a bedtime treat just waiting to be unwrapped, shared and enjoyed. Many of our racy sheer nightwear sets feature naughty details like cut-outs, lace-ups and side slits, making you even more tantalising and irresistible to your partner. To complete and enhance your erotic evening ensemble, add some naughty boudoir accessories to take your pleasures to the next level.
We hope our sleepwear style guide has given you some sexy inspiration and all that is left is to slip into your chosen nightwear, fix your come to bed eyes on your lover and prepare for the dreamiest sleepless night you've ever had!