FREQUENTLY BOUGHT TOGETHER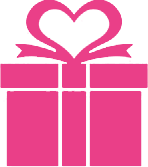 Tick to select desired items to be beautifully wrapped in tissue paper and enclosed in our luxury gift box. A complimentary card can be chosen at checkout.

Noemi M
Thanks a million for all your help, I am so happy with the nightwear set. Can't wait for my weekend away.
Karen G
Thanks again for your help with my bridal lingerie, you offer an excellent service and I know where to come in the future.
Tom S
Thanks very much for your help. Hopefully you've saved me a lack of birthday present bollicking.